Nirmal Lumpkin
Nirmal Lumpkin enjoys helping clients and students on their path to their highest and healthiest life. She began her study of the body and wellness with extensive training in dance from the age of 3 and then began to explore the practice of yoga in early 2001. After taking her first Kundalini Yoga class Nirmal felt deeply at home with the practice and has dedicated her life to this practice and teaching. She is a Level 2 Certified Teacher (500-hr) with the Kundalini Research Institute and a Professional Trainer of Kundalini Yoga with the Aquarian Trainer Academy. Nirmal is an engaging and practical teacher and trainer specializing in Physical and Yogic Anatomy and Postures.
Nirmal is passionate about and intrigued with the study of the Human Body in all of its forms. This passion lead to her first book Enlightened Bodies: Exploring Physical and Subtle Human Anatomy, which was published in 2015. This work explores the study of the human body from many different angles from physical-gross anatomy to a subtle understanding of chakras and meridians. Nirmal is also medical student at the University of Minnesota- Twin Cities and enjoys lifting weights, walks with her dog and building a campfire.
Michele Agia Akal
Since taking my first Kundalini Yoga class in 2000, I recognize that when I consistently practice the teachings of yoga, I find deeper meaning in my choices and relationships, and my heart is more open to myself, inviting in a kinder voice and softer approach. I am a RYT 200 with the Yoga Alliance and a member of the International Kundalini Yoga Teachers Association. I am deeply passionate about helping people to see and treat themselves with greater compassion. I believe yoga has a unique way of allowing individuals to connect and listen to their inner voice and see their inner landscape. My teaching style blends my knowledge of human psychology and energy anatomy, with a little bit of humor, and I LOVE to play the Gong.
My Yoga Training includes: Kundalini Yoga Level 1 TT (2010), Kundalini Yoga Level 2 Life Cycles (2011), Level 2 Mind & Meditation (2016) and Level 2 Stress & Vitality (2017), 1,000-hour Yoga Therapy training (began 2016- estimated graduation 2020). Education Background: Doctorate of Nursing Practice (DNP), specializing in Psychiatry and Mental Health, University of Minnesota (2018); M.A. in Nursing, Augsburg College (2009); B.S. in Nursing, University of Minnesota (2004); Healing Touch Practitioner (since 2012).
Find out more about me on my website: michele-yoga.com.
Lauren Asheim
began studying Kundalini Yoga in April 2007 and finished Level I Teacher Training Certification in February 2008. She graduated from Saint Olaf College in 2003 with a B. A. in Interdisciplinary Fine Arts and an emphasis in Dance. Lauren is an active participant in the Twin Cities performing arts community. Principles of Creativity, Prosperity, Projection and Radiance have intersected in her experiences with the fine arts as well as her continued study of yoga, meditation and other healing arts. She is a RYT 200 with the Yoga Alliance and a member of the International Kundalini Yoga Teachers Association and the Kundalini Research Institute. Lauren Sat Rattan continues to deepen her knowledge of Kundalini Yoga through further study and is in the midst of completing her Level II Teacher Training.
Tej Dharam | Malory
Tej Dharam Kaur (Malory Lyn Giraldo) is a certified instructor of Kundalini Yoga as taught by Yogi Bhajan®. Various forms of Hatha Yoga, spirituality, and holistic healing led this life-long dancer/runner/yogi versed in anatomy, mental health, and conscious living, to study under the Kundalini Yoga Gurus of Latin America in Quito, Ecuador where she completed the Kundalini Research Institute (KRI) RYT-200 training in 2012. She has taught in Quito, rural Wisconsin, Chicago, with various communities around the Twin Cities.
Tej Dharam embraces the meaning of her spiritual name, fearless radiance, and roots herself closer to her dharmic identity and an expanded consciousness. She has used the steady daily spiritual practice to gracefully overcome day-to-day life and a difficult series of trauma and loss, especially through the somatic work of physical postures, breath work, and meditation. Her classes bring students into a safe space of maternal empathy, paternal determination, meditative grace, and innate contentment.
Beyond a vibrant tapestry of higher education, Tej Dharam has certifications and continues to educate herself in mental health, conscious communication, ayurvedic practice, ethics, trauma-sensitive yoga and healing, and violence prevention. Her greatest joy is facilitating student's transition into a happier, healthier, and more divine lifestyle.
Courtney Sukhtej Bolstad
Courtney attended her first Kundalini Yoga class in 2011 and knew immediately that this was where she needed to be. Had you told her at that time that four years later she would be teaching yoga, she would not have believed you for one second! Courtney is a level one certified teacher (200 hr) with the Kundalini Research Institute (KRI) and has begun course work toward level two certification.
Because Courtney has experienced profound healing and increased mindfulness through her personal practice of Kundalini Yoga as taught by Yogi Bhajan®, she is passionate about sharing this "Yoga of Awareness" with others. Courtney delivers her classes in a loving, no-nonsense fashion and encourages students to go within to find their own inner "guru". She gently challenges students to train the brain to make it to the other side of "this is too hard" and "I can't". By working through resistance, the self-limiting messages are replaced with "I can" and "I will", and students are able to release what no longer serves their highest interest.
Guiding students into a state of deep meditation and holding space for their process is what Courtney thrives on. "I love to see the incredible shifts that people make during meditation and relaxation. This is the time we take for ourselves to really listen to our soul."
Amarbir | Wes Cutter
Joyce Paxton (Narayan)
Joyce started practicing Kundalini yoga in 2001 and has been teaching since 2003 when she finished the KRI teacher training (200 hrs). She has twenty five+ years of teaching experience in dance and fitness and in her early career trained fitness professionals in anatomy and kinesiology. Joyce works in Quality and Process Improvement at Metropolitan State University and holds an MA in Organization Development from the University of St. Thomas.
Her spiritual name is Narayan Kaur, which translates to one who has clarity perceiving the truth. One truth is that she feels fortunate to share this powerful technology, from Yogi Bhajan, with others and to observe as students discover the blessings of a quiet moment and recognize their true light.)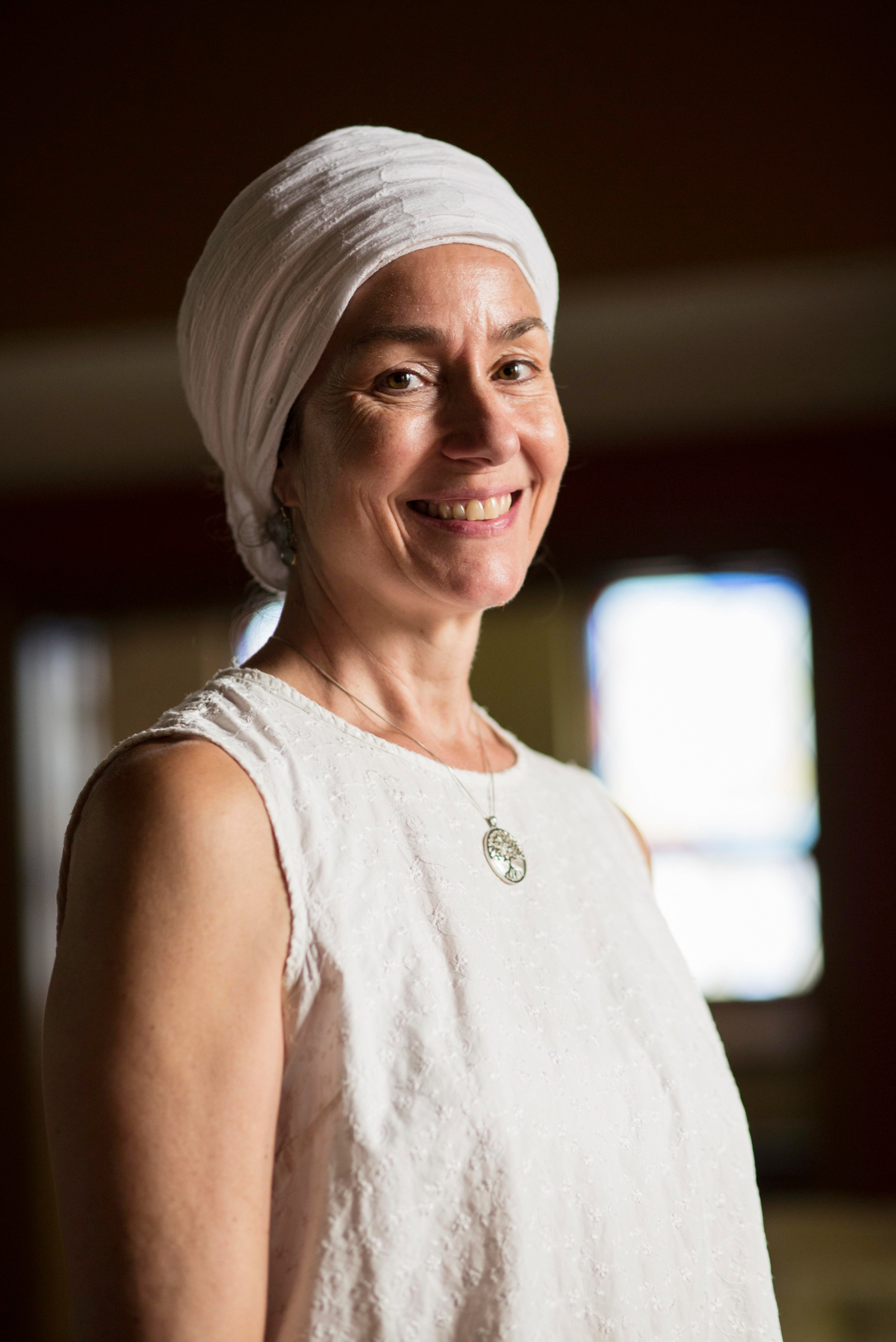 Dorothy Jordan
Joseph Ramdeep Wild
Before he started as a Kundalini Yoga instructor, Joseph Wild, was given the spiritual name Ramdeep, meaning Light of God, "When I first encountered Kundalini Yoga, I had been practicing "fitness club yoga" and was searching for tools to support deeper healing processes. I was immediately thrilled to learn that Kundalini Yoga engages us deeply and on many levels. When I turned my focus inward, I felt as if I were finally beginning to listen to an inner wisdom that had been patiently awaiting my attention." Ramdeep teaches at Nokomis Yoga and Pathways Center.
Catherine Siri Sat Liska
is a lifelong dancer who celebrates the joy of movement as a spiritual practice. A former member of Jawaahir Dance Company (1992-2005) and Cassandra School of Belly Dance instructor, it was through the practice of Yoga that she began to fully comprehend how important the connection between our body, conscious awareness, and creativity is to our overall health and well being. Her own embodiment journey lead her to become a certified Kundalini Yoga Instructor, Global Somatics™ Practitioner, YogaMeetsDance™ Instructor, Usui & Karuna Reiki Master, and New Paradigm Multi-Dimensional Transformation Practitioner.
Each of us is a spark of divinity – a spiritual being having a human experience – and each of us has unlimited capacity for love and healing when we take time to deeply listen to our breath, our body, our spirit. Over her years of teaching, Catherine has been blessed to witness to incredible capacity that each and every person has within him/herself for personal elevation and healing through dialogue with his/her own body. She honors every experience in life, whether wonderful or difficult, as an opportunity to discover and release unhealthy patterns that keep us each from living fully as the happy, bountiful person we are capable of being. In her classes Catherine welcomes all opportunities to connect with others to play, nurture and celebrate the body/mine/spirit through dance, yoga and the healing arts.
So Purkha (Tiffany Reinitz)
Tiffany has a strong interest in complementary and alternative therapies including yoga, aromatherapy, Tibetan Medicine, Ayurvedic Medicine, meditation, energy healing and more. She is a Reiki master and has been to India several times studying yoga, Tibetan Medicine and Ayurveda. She is a level 1 certified (200 hour) Kundalini yoga instructor. She also holds a certificate in Complementary and Alternative therapies from the Center for Spirituality and Healing at the University of Minnesota. Tiffany practices yoga as not only an exercise but embraces the lifestyle and philosophy behind the vast and ancient teachings. She is the owner of Om Shanti Wellness, a healing practice focused on Reiki, yoga and hand-crafted herbal wellness products
Angad Bani | Jessica Skilar
Angad Bani Kaur is the spiritual name given to Jessica Skilar when she started her Kundalini Teacher Training Journey. It means one who becomes a limb of the divine by constantly dwelling in her own sacred sound. As a musician, Kundalini was a natural avenue for her because she deeply connected to the Mantras.
Angad Bani feels that Kundalini Yoga is deeply healing on a physical, spiritual, and energetic level and feels called to share this healing we can all find in ourselves through Kundalini Yoga. Her classes are for all levels and can be taken by anyone without any experience of yoga.
Visit www.angadbanikaur.com for more information and to see Angad Bani's Blog.
Chandra Kirin | Channing
Channing has been practicing yoga most of her life. In 2008, her journey brought her to Kundalini Yoga and she was immediately drawn to it's spiritual depth and the effectiveness with which it brings the mind's subconscious patterns to the surface so that they can be consciously addressed. She is a chiropractor, craniosacral therapist and KRI certified yoga instructor who holds a deep commitment to healing on a personal and societal level. She has an integrative wellness practice in St. Paul and offers Kundalini Yoga workshops at various locations in the Twin Cities. Visit www.channingmckinley.com for more information.
Prakash Kaur
Prakash Kaur's (Debbie Huntington) love of yoga has been a lifelong passion. First introduced to Kundalini Yoga as taught by Yogi Bhajan in 1992, Prakash was transformed by the teachings. Her love and sharing the science of how we can move through subconscious blocks, strengthen our nervous and glandular systems, increasing our intuition and aligning ourselves to prosperity, has brought vitality, strength and grace to many who attend her classes and workshops. Some of her past experiences has included working in Ayurvedic Facial & Body Work, Environmental Research, and professionally skydiving. Today she loves being in nature hiking, practicing all forms of yoga, Pilates, Foundation Training and is a Quantum Success (QSCA) certified life coach. She has currently enrolled in Kundalini Yoga Shakti School teacher training. Prakash has completed her 500hr KRI certification.
Tera Rajpreet | Kelly Rose
Tera Rajpreet (Kelly Rose) began practicing yoga in 1999, shortly after her first child was born. She took no more than five kundalini classes before eagerly signing up for level I teacher training. Kelly is fascinated by kundalini's compliments to her role as a parent, business owner and marriage & family therapist. Kelly believes that ultimately, we are the heroes of our own stories. She specializes in helping students and clients design their authentic paths to healing using integrative approaches. Kelly can be reached at kellyrosekundalini@gmail.com or check her social media updates at facebook.com/kellyrosekundalini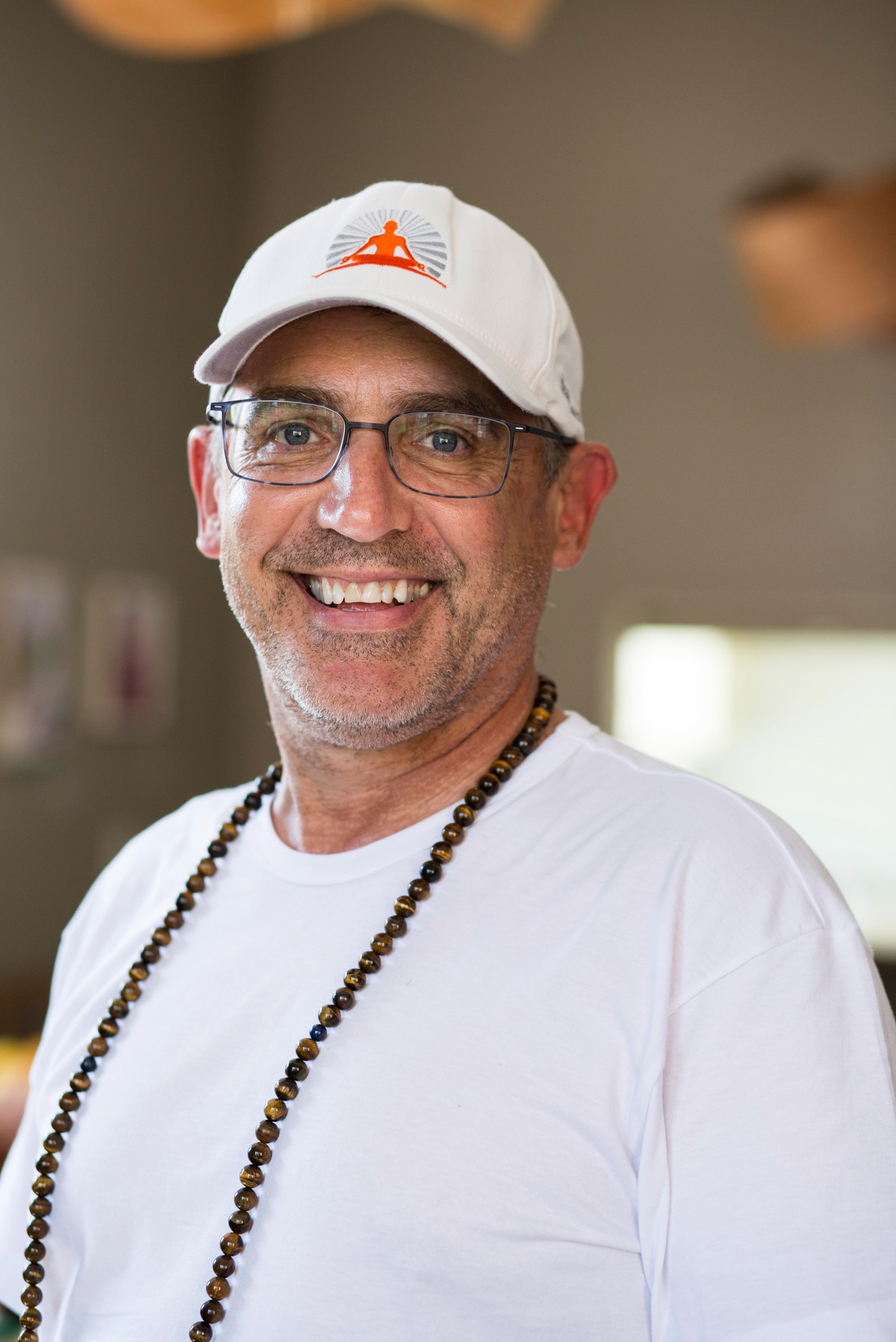 Mike Shore
Elle Anna | Kavita Dyal
Elle began a daily Yoga practice in 2005 and has found inspiration and strength on her mat each day since. Infinitely curious to broaden her understanding of the merging of body, mind and spirit on a profound level and refine her ability to be a conduit for this deep well of transformative alchemy opened the doorway to a lifelong commitment of study in the healing arts of yoga, mindful movement, plant based nutrition, health and wellness, energy and bodywork. This foundational knowledge has led to the continuous development of her holistic nutritional therapy practice, a unique approach to whole systems healing. She is an LMT, 500+ hr RYT, and holds additional certifications in Holistic Health Coaching, Craniosacral Therapy, Pilates, and Yin Yoga with well over 1,000hrs of hosting workshops and immersions, teaching, coaching, and bodywork experience since 2012. Elle communicates her love of yoga through guiding each student with insight and compassion, weaving ancient wisdom with simplicity. She most recently completed Kundalini Yoga teacher training and is certified to teach through the Kundalini Research Institute, and is pursing Level 2 certification in addition to a MS in Nutrition and MA in counseling psychology at Bastyr University. Her spiritual name, Kavita Dyal, encompasses her highest mission-to embody the celestial poetry of god's compassion in the world. You can learn more about her offerings at rebellecollective.com or email rebellecollective@gmail.com (website currently under construction).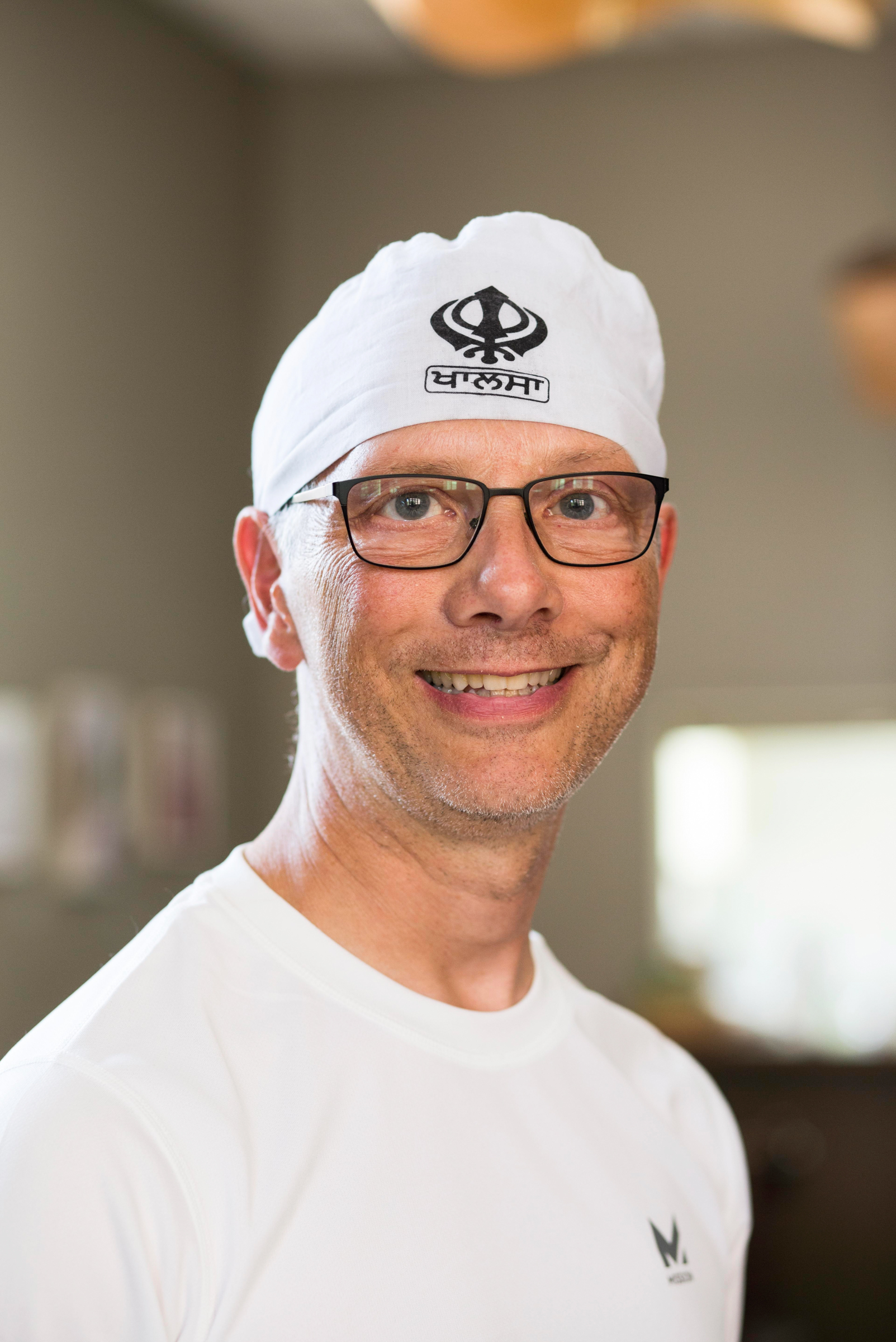 Jeet Shiva | Tom Pieper
Jeet Shiva discovered Kundalini Yoga in Rochester NY in the late 80s. After a year and ½ of practice, he was propelled to move to the Twin Cities. His 24-year hiatus from classes ended in 2014 after an injury helped return him to mindful practice. The familiarity and routine of his first class back, made him feel as if no time had passed. From 2014 until now Jeet Shiva, has cultivated a home in the local and national kundalini community.

Jeet Shiva offers classes so others may join and experience their own path of Kundalini Yoga as taught by Yogi Bhajan. He is interested in finding a balance between presenting new experiences and honoring this traditionas we continue our dive into the Aquarian Age. As a professional educator, Jeet Shiva believes in developing an authentic environment for class; valuable and helpful to all who enter the space. As a musician. Jeet Shiva digs all the music available from artists and musicians celebrating new sound currents in Mantra connecting us to our higher consciousness.

Jeet Shiva completed his Level One teacher training in 2018 (KRI certified) and is pursuing Level Two certification. As a biker, Jeet Shiva uses Mantra to propel him on long solo and mind-expanding excursions across the states and Canada.
Jai Kirti Kaur | Kate Thomas
Jai Kirti (Kate Thomas) discovered Kundalini Yoga as taught by Yogi Bhajan while living and working in France.
Passionate about helping others live healthily, happily and wholly, Jai Kirti shares the technology and power of these teachings authentically and from the heart. She challenges students to show up for themselves—both on the mat and in life—and push their boundaries in a safe and supported way. She dispels the mystery of the practice with clear language and raw encouragement. Jai Kirti aims to make Kundalini Yoga and Meditation accessible to everyone and she creates an experience of playful and meaningful exploration of the Self.
Jai Kirti completed her Level One teacher training in 2011 (KRI certified) and is pursuing Level Two certification. She's done deep-dives into Women's Teachings, Mantra, and yogic lifestyle. She carries the teachings of Kundalini Yoga with her to all parts of life. More info on her website: yogawithjaikirti.com
Laura (Sada Anand) Adrian
Laura is a multi-modal healer, spiritual explorer, and forever a student of life. Her aim is to support people on their paths to uncover their power and passion through practices that are non-harming, empowering, and fun. Laura has training in Kundalini Yoga, CranioSacral Therapy, EnergyWork, EarthWork and mindfulness meditation. You can find her at WholeLifeElevation.com and SchoolofEarthMedicine.org
Anand Padmani | Abby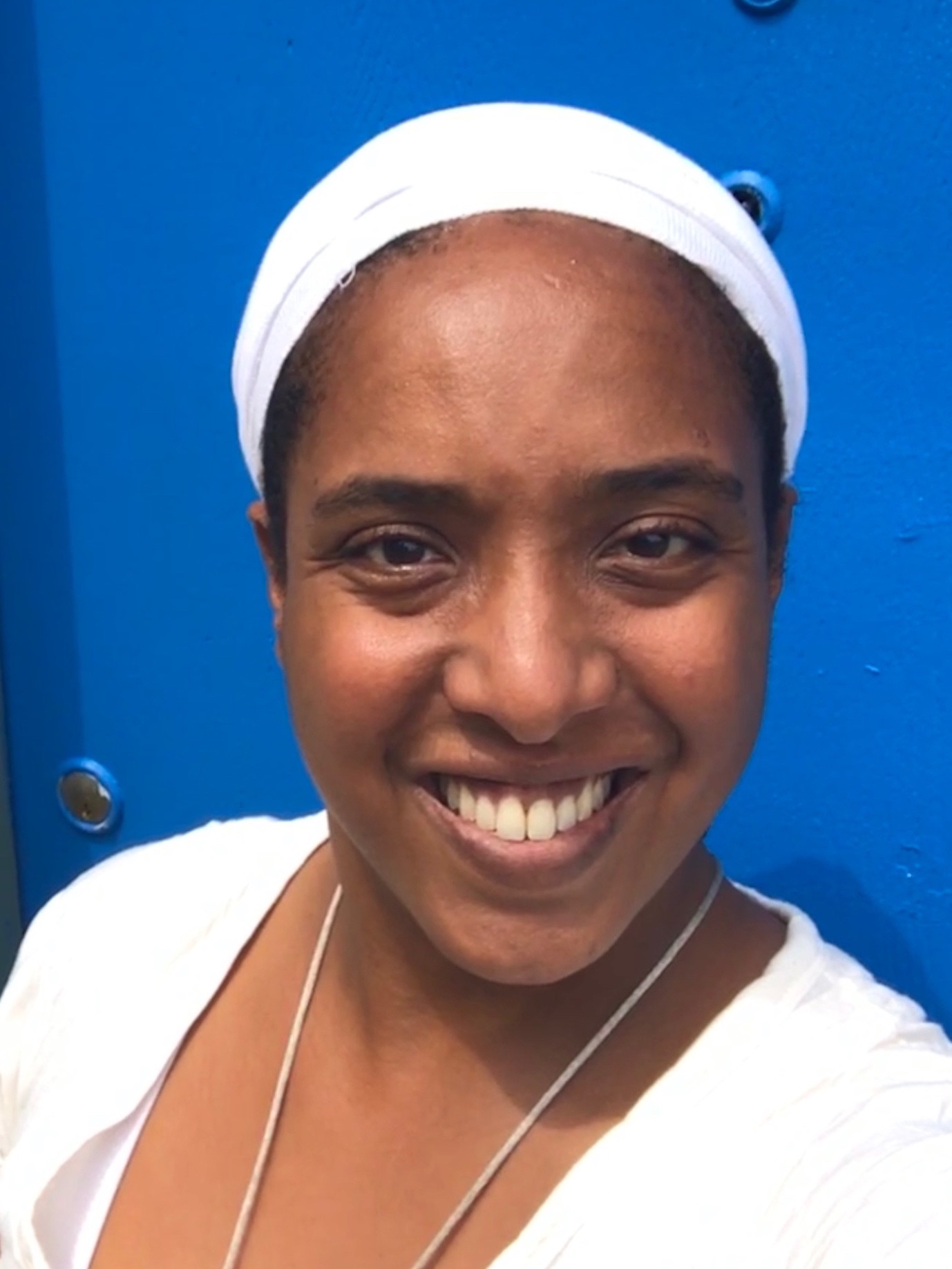 Rebeka Ndosi | Sat Nishan Kaur
REBEKA NDOSI, L.AC, M.S., RYT is a licensed acupuncturist and herbalist, certified teacher of Kundalini Yoga & Meditation and Radiant Child Family Yoga, a Radiant Child Yoga Facilitator/Teacher Trainer, and a certified community coach in healing justice. She is co-owner of People's Movement Center (PMC) in Minneapolis and founder of the Youth Healing Justice Network @ PMC. Dedicated to building a culture of mind, body and wellbeing practice for youth of color and the adults in youths' everyday spaces and places, her work recognizes, honors and nurtures the individual and collective wisdom that we hold and is driven by the firm belief that lasting, revolutionary change and healing starts from within. She focuses on practical, relevant and integrative healing modalities to support children and youth, especially indigenous youth and youth of color, and the adults and communities who surround them in relieving stress, processing and healing from trauma, and affirming their greatness.
Find out more about Sat Nishan on her website: alifeinpractice.com
Michele Wolf | Keval Amrita Kaur
In 2008 I found Kundalini Yoga and fell in love with how it made me feel...it brought me back to ME. My goal for teaching Kundalini Yoga as taught by Yogi Bhajan is to share this time-proven technology of combining mantra (chanting), mudra - movement exercises and held postures, breath work, and meditation with others so that they too can come back to their true selves, calm the nervous system, and focus the mind.
I am a Level 1 (220 hour) KRI Certified Instructor of Kundalini Yoga as taught by Yogi Bhajan (completed 2018) and a member of the International Kundalini Yoga Teachers Association. Currently I am in the process of completing the Level 2 Kundalini Yoga Teacher training.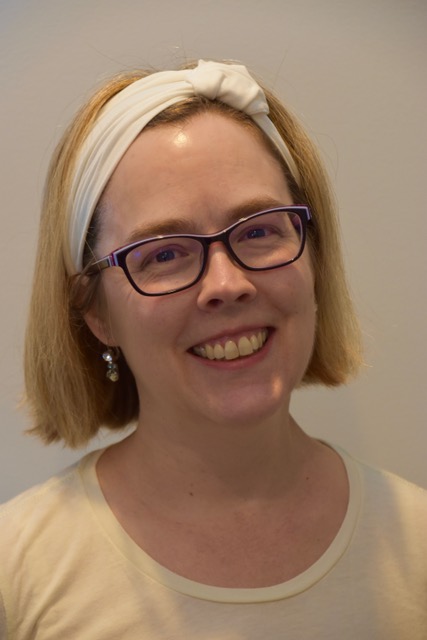 Julie Hill
I tried Kundalini Yoga 11 years ago and came out of class feeling as if I had learned to breath for the first time. Since then, I have become an avid student and a certified Kundalini Yoga Instructor (Level 1) as of 2018. I enjoy introducing students to Kundalini, as well as welcoming all ages and abilities. This is the yoga of awareness and classes are designed to nurture and strengthen the energy within you, through movement, mantra, mudra and meditation.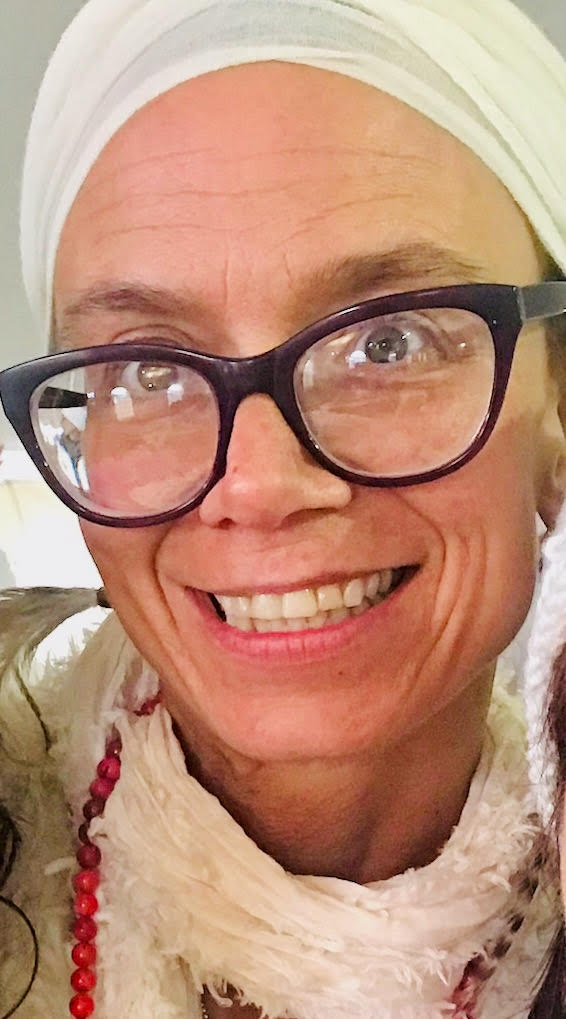 Tracy Guru Sandesh Cielto
Has been practicing yoga for over 20 years; and sharing what she understands about health, nutrition, conscious living and personal growth for just as long.
A graduate of the college of Saint Catherine (1997), Tracy started her yoga training in California at Yoga Works, then returned to St. Paul, Minnesota to start her Family. It was then that she found Kundalini Yoga as Taught by Yogi Bhajan and soon after began her level 1 Teacher training at the Center for Happiness in Minnesota. After the birth of her 2nd child, she Completed her level 2 training (500 hour program) with The Kundalini Research Institute . She then trained with Shakta kaur, who developed the renowned Radiant Child yoga, and Gurmukh Kaur Khalsa of Golden Bridge Yoga studio in L.A . Later, she studied yoga & art with Hari Kirk Kaur Khalsa. Her passion for yoga and Conscious living led her to open her studio, Audacious Alchemy in 2009. Her studio offers private yoga therapy, group classes, workshops and kids camps. Additionally Tracy has worked for several years with the Saint Paul Public school system, teaching Kundalini Yoga and Mindfulness in after-school programs. Her currentWork includes starting a non-profit in correlation Woth a regenerative farm, aiming to educate the Community and make Organic, Local Foos and Natural Living opportunites available to all.
Robyn (Darshan Dev) Deustermann
Robyn in passionate about spreading her inspiration as a Kundalini yoga/meditation teacher, transformational life coach, holistic health coach, workshop host and speaker. She lives in Inver Grove Heights with her husband and two young daughters. Robyn used to live her life as a perfectionist and someone who always had to feel accepted. She was scared to stand out, scared to use her voice and was stuck in a world dictated by her past. Through expressing massive courage, bravery and tenacity, Robyn has advanced her education, achieved personal healing and growth and created a life aligned with who she really is. She has since founded robyndeusterman.com and The Gratitude Project, a mother/daughter retreat designed to set aside the responsibilities of life, connect, listen and be fully present for one another. Robyn believes that everyone deserves to live a life they love, free from self-doubt and bounding with self-love. Her mission is to walk alongside others as they embrace who they are and gain the power and confidence to live their healthiest, happiest, most grateful life.
Jen (Siri Deva) Grant
The moment Jen (Siri Deva) read about Kundalini Yoga (as taught by Yogi Bhajan) she knew she HAD to get certified. Her first class EVER was following signing up for training. Since that time, she's loved every minute of it. She has been on a personal and intentional journey filled with inspiration and transformation since July 2009. After she broke her board (ask her, she'd love to share) she began a mission to "lead with love" while sharing the messages your life is a choice and you really are amazing - to name a couple.
Her first book, "Dying to be Good Enough" was released fall 2014, and her second book, "Hotdish for the Heart" is heading to the Editor soon. In addition to the books, she is excited to be featured as an expert writer with a global magazine, Holistic Living Magazine. Along with writing, she spends her time traveling, speaking, leading workshops, and co-hosting the Happy Healthy and Fit Life podcast. You can listen in weekly!
If you asked Jen one thing she'd share with you, it would be to realize that you really are amazing. Truly. Beyond anything, she is super passionate about sharing a message of love.
Nicole Nardone | Mahandeep
Raised around yogis, healers, and wild women, Nicole has a strong background in all things Sacred. Kundalini Yoga and the gong (sound healing) were a natural fit when she discovered them in 2003. Kundalini Yoga took all her childhood learning and training to another level. Nicole now dedicates her life to celebrating what is sacred (everything) and helping others reclaim and reconnect with that sacredness within themselves, cell by beautiful cell.
Nicole leads classes, workshops, e-courses, retreats, and more. Her offerings are filled with the heart, passion, and joy of someone who has truly come alive. She delights in lovingly coaxing people to the edge of their comfortable cages and feeling them leap into uncharted territories of expansion, joy, and creative flow. Her classes combine deep grounding in the body with cosmic expansion, the physical and the infinite, laughter and deep reverence.
Nicole lives in Minneapolis where she worships the moon and talks to trees. To learn more about her work, visit www.nicolenardone.com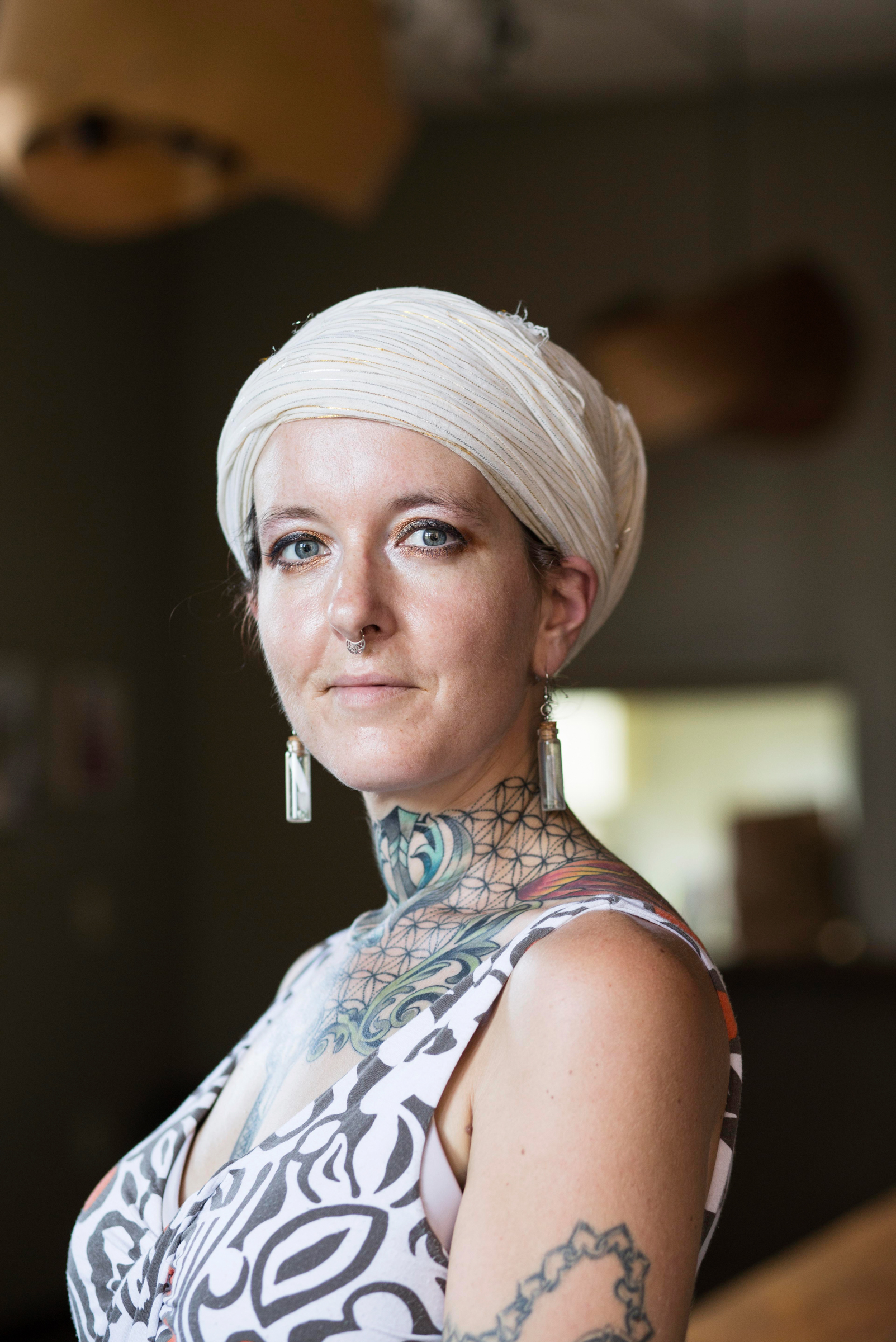 Sach Gian Kaur | Gabrielle
Sach Gian Kaur teaches in Bemidji, MN.